ACE 2018 will blow your mind!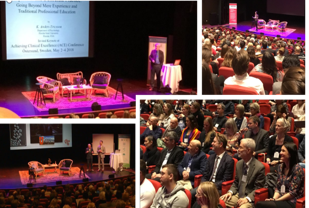 ACE 2018 brought together leading researchers, clinicians, and educators in the fields of behavioral health and expert performance. Together they draw on 30 years of research to deliver evidence-based steps that practitioners, managers, and executives can immediately put into practice to optimize effectiveness and efficiency.

ACE2018 Online gives you the opportunity to watch at your own pace keynotes, Ted talks and workshops from the inspiring and informative ACE2018 conference. You will not only learn cutting edge, evidence-based strategies specifically designed to improve your practice and help you to achieve your personal best but you will also be inspired by top performers from a variety of professions and disciplines including music, sports, entertainment who will perform and talk about the steps required for excellence.

About the sponsor


ACE Health is the developer of OpenFIT, an online feedback system designed to allows clinicians to easily and routinely solicit feedback from clients on treatment outcomes and service quality. OpenFIT supports the implementation of Feedback Informed Treatment (FIT) which focuses on adjustment of ongoing treatment in line with client feedback to ensure clients receive maximum benefit from services. To learn about OpenFIT and how we can support your FIT Implementation visit
www.openfitapp.com
or complete the form below.
Get free access to ACE 2018
To get free access to ACE 2018 please complete this short questionnaire below, you will receive a coupon code from ACE Health the developers of the OpenFIT software application.